This blog post is part self-motivational speech. If I am honest about myself, I know that I love to learn new things and understand things fully but actually finishing a project is not my strong suit. Sometimes I like to see all the lights turn green before I leave my driveway. It's really dumb when you put it into words like that.
:\
Sometimes the pursuit of knowledge comes at the expense of actually putting that knowledge to work and learning about the how the theoretical becomes the actual - "where the rubber meets the road", so to speak. Part of that is because I fear the perfectionist that resides inside me. I can be very critical (and at the same time objective). It isn't going to be perfect just because it's "my kid". I think part of that is because I grew up with a very negative mother. Her unspoken philosophy was "blessed are the pessimistic, for they shall not be disappointed". Disappointment can hurt.
Well, as the Dread Pirate Roberts said in the great movie "The Princess Bride":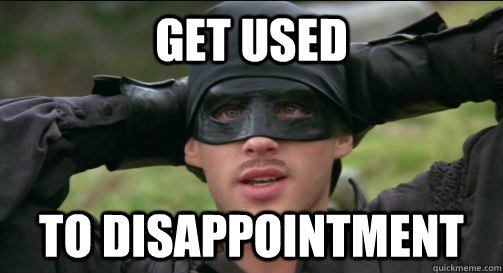 Disappointment is part of life with imperfect people (like oneself). Your only REAL choice is: what are you going to be disappointed OVER and how often are you going to feel that disappointment? I'm 55 years old. It is time to stop being disappointed over things that turn out to be less than perfect and instead be disappointed in myself for not not making the attempt: trying to accomplish them at all. Things that I've "wanted to do" my whole life, like play guitar. And now, to make CBGs.

Yes, I'm learning a lot about the process from talking and reading, but it is time to Just Do It and learn FROM the process. (And learn to play one of those little boogers). Perfection can come on the next one....