25,000 hits on my website!!! Praise the LORD!! =)
Email me at tinyguitars@verizon.net or through my website below.
May God bless you all! :)
ALL SOLD!!! tinyguitars' $75 electric cigar box guitars!
Solid cherry neck and piezo pickup. 24.75" scale, fully fretted and playable! ALL SOLD!!!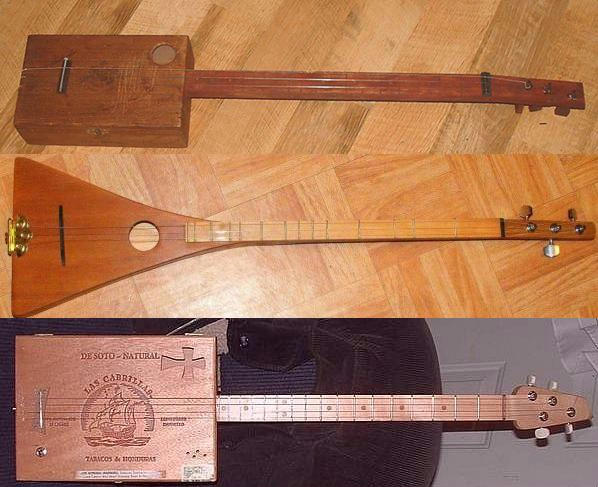 http://www.tinyguitars.tk
The following is not "fear based", but fact based. It is the TRUTH. It is not about "religion", it is about SALVATION. So much confusion!!
If you died right now, not tomorrow or a year from now, but what if you died right now? Are you 100% sure that you would go to Heaven?
And as it is appointed unto men once to die, but after this the judgment:
It is a proven fact, 10 out of 10 people die. We will ALL die and we MUST be prepared for it.
For all have sinned, and come short of the glory of God;
God's standard is complete perfection. Who among us can stand up to that? Nobody of course! One sin in the Garden of Eden seperated all of Humankind from God for eternity. How then can we think ourselves good enough to merit Heaven with a perfect and Holy God?
For the wages of sin is death;
This isn't merely a physical death, but eternal death and seperation from God and all things good, FOREVER. Hell is a real place and Jesus preached more about Hell than Heaven.
but the gift of God is eternal life through Jesus Christ our Lord.
This is the "Good News" of the Gospel!
There is hope and forgiveness in a RELATIONSHIP with God through His Son Jesus.
It isn't about RELIGION!
By definition that is "a set of beliefs and practices." What does that have to do with GOD? NOTHING.
But God commendeth his love toward us, in that, while we were yet sinners, Christ died for us.
God gave the ultimate proof of His ultimate love by allowing our sins to be placed on His perfect Son on the Cross of Calvary. Imagine:  Christ who was without sin, became sin and died for the ungodly! WOW!
For whosoever shall call upon the name of the Lord shall be saved.
This doesn't mean a mouthful of empty words but rather calling upon God from the heart, a broken heart, knowing that He is our only hope to make it to Heaven. If we truly believe and call upon Him then He WILL save us from our sins.
That if thou shalt confess with thy mouth the Lord Jesus, and shalt believe in thine heart that God hath raised him from the dead, thou shalt be saved. For with the heart man believeth unto righteousness; and with the mouth confession is made unto salvation.
How simple is that? If we believe that Jesus WAS who He said He was and that He died for our sins and rose from the dead then God will save us and take us to Heaven when we die. Amazing!
Again, this doesn't mean and empty confession without faith and true belief from the heart. Remember, God looks upon the heart and sees the very intent of our actions and thoughts. He doesn't look so much at our actions and words, but what we really feel and think deep down in the depths of our heart.
Behold, I stand at the door, and knock: if any man hear my voice, and open the door, I will come in to him, and will sup with him, and he with me.
If God is knocking on your hearts door and you are willing to submit your heart and life to Him then there is nothing more to it. You don't have to repeat a prayer. God looks on your heart; just say "Yes!" in your heart and believe the promise He has made you.  
For the scripture saith, Whosoever believeth on him shall not be ashamed.
Now tell somebody what God has done for you!
If you have truly been saved, you will want to tell everyone! Please email me first!! :)
Find a Bible-believing church and attend regularly.
Read your Bible!! There is so much in there that we need. I hear so many people say they believe what the Bible says, but their lives are complete contradictions of that. Read the Bible!!! 
Pray daily!
Remember, you are now following Christ, not the desires of yourself. He is our Lord, which means we do His will and not our own.
The most important thing is that there has been a change. You won't be able to live in the sin you have for so long. God's Spirit which now lives within you will begin to mold and shape your life to be a light so others can see the change and belive that God is real and that He can change people's lives!
As I said, if this has helped you please email me and let me know. If you think I'm a nut and completely off my rocker, then I also welcome you to contact me; it's you I pray for every day! :) May God bless you all!