I'll be retiring soon and moving.  This means downsizing, so I will start selling off old and new CBGs and other guitar related items.   One of the things I'm doing with all my CBGs is ship them in a custom foam shipping container that can be the bones of a custom carrying case.  In the slide show below, I show a foam shipping container that I transform into a carrying case with spray glue and cloth and duct tape.
Time to sell them, if only to get them out from under foot...  At these prices, they are great wall hangers or even could be bought for their parts.  Never can tell... early Wichita Sam's might become collectors as part of CBG History...... thumbnail pics for moving sale CBGs, more to come.  All prices include shipping to the continental US.  If interested, click on the pic and you will go to my photobucket account with more closeup of all the CBGs.  If you have questions, email me... I can do more pics or post a youtube so you can hear the CBG.
Last Chance!  Any CBG bought and paid for overnight (April 29th) can still be shipped Saturday April 30.  After that, nothing will ship for 3 weeks as I recover from surgery.  Thanks for the great response... More to come about Wichita Sam Custom CBGs in late May....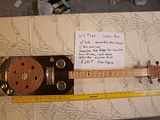 Heirloom  electric/reso  vintage box, spun cone,  humbucker/peizo/3way switch... $ 195 Sold!!! Thanks
  License Plate reso, tele style pup.... rocks...  $ 95 SOLD!  thanks!!!!

  WS # 182   1 string dulci-strummer... reso, piezo, vintage tuner key stems for bridge and nut, hook scroll headstock ....

sold!!!  Thanks...
   WS #31  Square neck fretless, piezo, three string slide steel...  get a piece of history.... $ 55

  # no #, three string fretted dulci-strummer, 20" scale, acoustic, oak neck mahogany fretboard, bright sound... loud for such a small size...  $ 40

   # 144 Vintage Box, built for museum exhibit with (mostly) hand tools, fretless, acoustic, very interesting.  good sound, total discussion piece .. $ 75
 Please don't expect to buy custom Wichita Sam CBGs at these prices.... I will only build 20 custom, signed and numbered Wichta Sam CBGs per year in the future.  If you want a CBG that reflects the experience of over 275 builds (well over 400 if you count workshops and kits), please contact me and we will discuss your requirements.
thanks,
Wichita Sam